Have you been told to watch your carbs? Or have you picked up this idea from the media hype about the keto diet and the general evils of carbohydrates?
I am here to give you the low-down on carbohydrates, from an educated and sensible nutritionist's perspective. Let's start with the basics:
Carbs are not required but…
First of all, it is absolutely possible to live with ZERO carbohydrate consumption. Yup. People are doing it, by choice, and they call themselves "zero-carbers." This is different than "keto" which does include a very low amount of carbs. Both zero-carbers and keto-dieters are in a state of ketosis, which is when your body burns ketone bodies as a primary fuel source rather than relying on glucose from carb intake.
There are perfectly valid health conditions that can benefit from a ketogenic approach, such as reversing significant obesity. However, ketosis is not the right approach for every single person, and there are things for women, in particular, to watch out for when in ketosis, which Sarah Gottfried covers very eloquently here.
Now for the "but" part…. are you a person who would like to not worry about being in ketosis for life? Does the idea of eating more carbs feel more appealing, and perhaps balanced? Or, you may have benefitted from a keto diet and are now ready to move on.
Let's face it. Even though carbs may not be absolutely necessary, they can sure taste good and contain a ton of nutrients. Consider a carbs-done-right approach, which I call Carb-Aware Eating.
This is a simple approach: a little education about the better-choice carbs, what it means to be in the carb danger zone, and the amount of carbs that are right for you.
The carbohydrate shades of grey
Do you know what a carbohydrate is? Simply put, all foods that break down into simple sugars are carbohydrates. All plant foods contain carbohydrates. In addition, milk contains carbs, as well as milk-derived products like yogurt, half and half, and ice cream.
Plant foods may contain protein as well (nuts, seeds, quinoa, and beans are good examples), and they may also contain fat (avocados and coconut for instance), but all plants contain carbohydrates.
You may have heard about "good carbs" and "bad carbs." Truth be told, there are carbs that are better choices because they:
Are more nutrient-dense.
Contain more fiber.
Are in a whole form that is absorbed more slowly, meaning safer for your blood sugar and insulin balance.
Happen to be more evolutionary appropriate, as in humans have been eating them for a long time and are well-adapted to them.
However, there are shades of grey among individual needs. For example, if you are fighting SIBO you may need to avoid certain high-fiber plant carbs (called FODMAPS) for a period of time. Or, if you have an autoimmune disease it's worth checking out if a Paleo-carb approach is best for you. Neo-carbs like milk products and grains are linked with autoimmune diseases of all types.
Generally speaking, the better-choice carbs that meet the criteria of nutrient-dense and fiber-rich are in whole food forms (or minimally processed) rather than highly refined. Think a piece fruit instead of sweetened fruit juice, a cooked whole grain like wild rice instead of a flour product like bread, and an actual potato instead of french fries.
The carb danger zone
Problems develop when we eat excess refined carbohydrates. At no time in history have we been able to obtain an infinite amount of refined carbs and sugars 24/7, until now.
This constant bombardment of simple sugars like glucose and fructose into your bloodstream demands that your pancreas continually pump out insulin to escort the sugars into your cells for use as energy. Your cells have insulin receptor sites that allow insulin to plug in and let the sugar inside. But when you have too much insulin (hyperinsulinemia), your receptor sites become resistant. This is just a fact of human physiology.
Most of us cannot consume excessive refined carbs without eventually suffering the consequence of insulin resistance. 2/3 of Americans are on the insulin resistant spectrum. This lead to:
Inflammation
Pre-diabetes / metabolic syndrome
Type II diabetes
High triglycerides, cholesterol, and blood pressure
Weight gain
Hypoglycemia
Hormone imbalances
Polycystic ovarian syndrome
Energy swings and crashes
Depression, anxiety, and moodiness
Brain fog, cognitive decline, and dementia
Gut bacteria and yeast overgrowth
Most of these can be prevented, and possibly reversed, with Carb-Appropriate Eating alone.
The crux of carb-aware eating
This is simple in concept.
1. Focus on better-choice carbs.
Still not sure what those are? They are in whole-food form and minimally processed, as in very few ingredients on a package, or better yet, they don't even come in a package. They include:
Vegetables
Fresh and frozen fruit
Nuts and seeds
Organic milk and milk products, if tolerated
Whole grains, if tolerated
Beans, if tolerated
Voila! It's not rocket science. Staying on the perimeter of any market is a better choice.
2. Determine the number of carbs that are right for YOU
Use this chart to determine the approximate right number (in grams) of carbs for your body size and activity level. Instead of thinking about the number of carbs per day, think about the number of carbs every time you put food in your mouth. You balance your blood sugar every time you eat, whether it's a meal or a snack.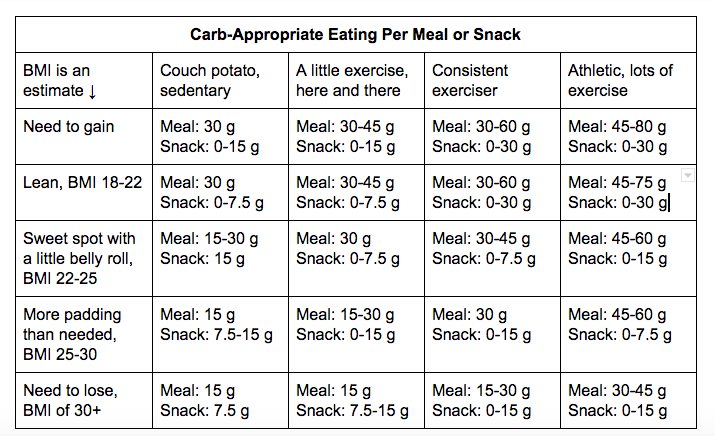 Along with each meal or snack, always include something with protein and fat, unless your carb choice has these already. To clarify:
Quality proteins include organic meat, wild fish, eggs from chickens that run around outside, nuts, seeds, beans, and organic cheese, and greek yogurt.
Quality fats include olive oil, avocado oil, nut and seed butter, coconut oil/butter/cream, MCT oil, yellow butter from grass-fed cows, and avocados.
This approach is meant to be simple
Long term I don't think it works for most of us to count or measure food. But if you have never learned about the carb content of different foods, it's useful to do that for a period of time. Anything that comes in a package will have a label. For whole foods, you can always use an app such as My Fitness Pal to look up carb quantities, and you can also use this cheat sheet I put together.
---
Let me know your thoughts in the comments below,